Asus ROG Phone 7 Ultimate Intro
ROG Phones are the pinnacle of gaming smartphones — the competition may have backed away, but Asus keeps churning out at least one new top-tier smartphone year after year.
You know the drill — they are packed to the brim with absolutely insane hardware and offer a plethora of software features exclusively catering to gamers and their needs. But are they worth actually buying, or are you better off just admiring them from afar? With a price-tag that comfortably sits north of $1,000, it has been hard to recommend a ROG Phone for someone that wants what other flagship smartphones have.
Since last year, Asus has begun steadily improving some aspects of the ROG Phones that make them… well, more like smartphones. And now, it's much easier for us to recommend you grab one than it was before. Let's dive in!
What's new about the device
AeroActive Portal from ROG 6D Ultimate arrives to the main ROG 7 Ultimate line
Improved speakers, AeroActive Cooler now also acts as a subwoofer
Qualcomm Snapdragon 8 Gen 2
IP54 certification – safe from water sprays and some dust particles
Software update commitment – 2 years of OS updates, 4 years of security patches
Vibration areas on screen – get feedback from virtual buttons, pick different vibration strengths for each area
Table of Contents:
Asus ROG Phone 7 Ultimate Unboxing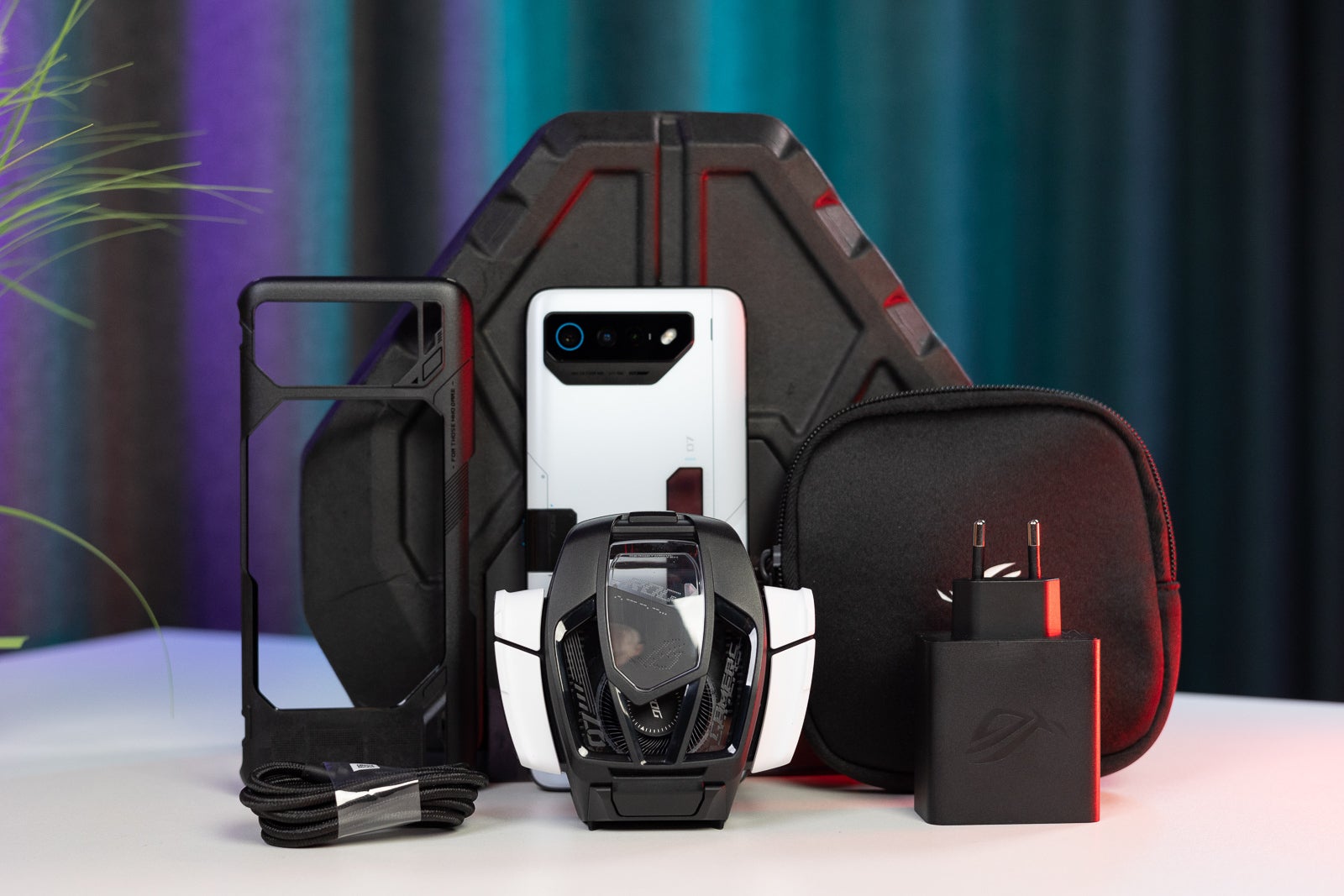 Asus does not go for the minimalistic approach. The rather large box this arrives in is made of biomass, 100% eco-friendly and 100% recyclable. Yet, it holds the phone, a 65 W fast charging brick, a very nice braided cable, a thin case, and the AeroActive Cooler 7 fan (non-Ultimate ROG Phone 7 doesn't come with fan. Fan costs €110 as separate purchase).
Asus ROG Phone 7 Ultimate Specs
Overkill doesn't even begin to describe it
ROG Phones have always been packed with the most cutting-edge specs Asus could cram in them. The 7 series is no exception:
Specs
Asus ROG Phone 7 / Ultimate
Size and Weight
6.81 x 3.03 x 0.41 (173 x 77 x 10.3 mm); 8.43 Oz (239 g)
Display
6.78″ AMOLED, 165 Hz, 720 Hz touch sampling, 1500 nits max brightness
Processor
Qualcomm Snapdragon 8 Gen 2
RAM, Storage
16 GB LPDDR5X / 512 GB UFS 4.0
Software
Android 13 with ROG UI
Cameras
50 MP wide camera
13 MP ultra-wide camera
8 MP macro camera
32 MP front camera
Battery Size
6,000 mAh
Charging Speeds
65 W fast charging
The Snapdragon 8 Gen 2 is the fastest currently-available SoC for Android phones (minus the Made for Galaxy edition, which is slightly overclocked) and it's paired with the fastest available storage and RAM. In typical ROG fashion — everything is over the top.
That 50 MP main sensor is the Sony-made IMX766, which has produced very satisfactory results in the past. More in the camera section.
Asus ROG Phone 7 Ultimate Design & Colors
Timeless design?
The ROG Phone design simply does not change — it's still got that huge 6.78-inch screen on the front and a meaty top and bottom bezel. The latter are there because they house a pair of excellent-sounding stereo speakers.
On the back, the ROG Phone 7 Ultimate has a tiny screen, which can display custom colorful graphics for you, or your pending notifications if the phone is placed face-down. The non-Ultimate variant simply has a large RGB-lit ROG logo here, and a slight translucent look, which looks striking in its own right.
The signature ultrasonic buttons make a return — it wouldn't be a gaming phone if they didn't. You can set the sensitivity of those shoulder buttons, as well as pick different programs for them — they can simply react as buttons, be split in halves for a quad-button setup, or accept swipes instead of presses for extra input options.
As before, we have a USB C on the bottom (next to a headphone jack, imagine that), and a USB C on the side. The side port is there for ROG accessories, and this time it's neighbored by a couple of connection points.
This is for the new AeroActive Cooler 7, which now has a subwoofer in it. The sound from this phone becomes insanely good with the accessory attached. If you have an old AeroActive Cooler 6, don't worry — it's still compatible with the ROG Phone 7. And yes, it still has hardware buttons on it to enhance gaming.
As for colors, there aren't many options to pick from. The ROG Phone 7 comes in the duo-tone look, where half of it is matte-finished, the other half is semi-transparent, and it's available in two colors — Phantom Black and Storm White. The ROG Phone 7 Ultimate is only available in Storm White.
Asus ROG Phone 7 Ultimate Display
The screen on the front is a 6.78-inch AMOLED panel, made by Samsung. Its refresh rate goes up to 165 Hz, but you can pick between 60, 90, 120, 144, and 165 at your convenience (or just leave it on auto). The white balance does seem to drift a bit with different refresh rate settings, which is normal (rather — a hard problem to eliminate, since the AMOLED pixels will always react differently)
Display Measurements:
You have plenty of color profiles to pick from and warmth and saturation sliders to play with. We found that the default "Optimal" mode works fine for most and if you want more subdued, less aggressive colors — the Standard mode does that.
There's a fingerprint scanner underneath the display — it's an optical type, which means it needs the spot under your thumb to light up for a quick scan. We found it to be incredibly quick and accurate — no issues there.
Asus ROG Phone 7 Ultimate Camera
A gaming phone with an OK camera?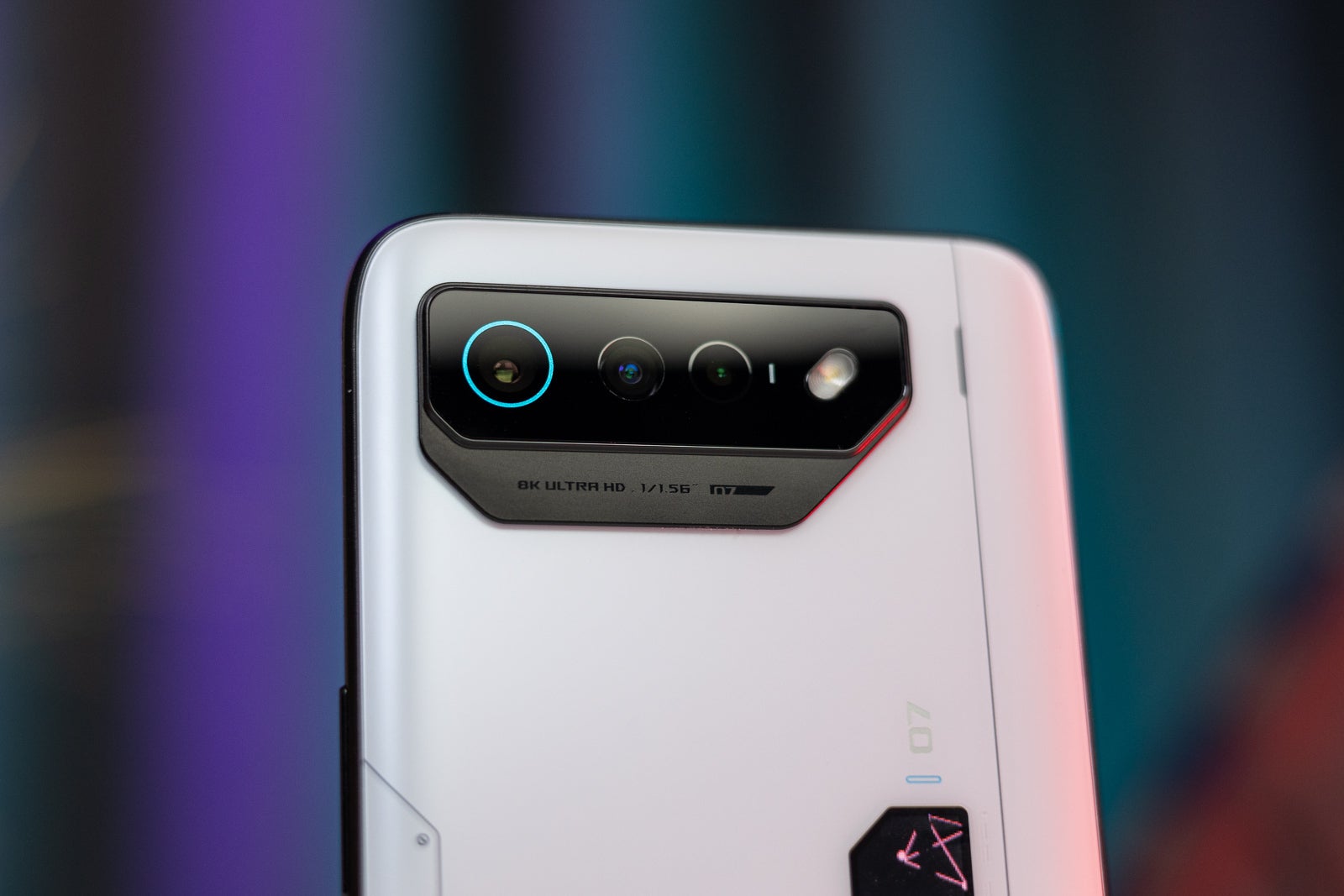 Gaming smartphones don't really focus on camera performance — it's not what we expect them to do, after all. However, this does turn away the more casual user who would like their smartphone to… act like a smartphone.
Asus did break the mold last year, when the ROG Phone 6 had an actually OK camera. Equipped with a 50 MP Sony IMX766, it managed to shoot photos that are actually pretty good.
Well, the ROG Phone 7 does not change that hardware — it just leverages the new tech in the Qualcomm Snapdragon 8 Gen 2 to, presumably, improve on the previous results.
Main Camera
Just as last year, the ROG Phone manages to take adequate pictures. It's not quite on par with the industry leaders here, but we wouldn't call these pictures "bad" in any way.
The dynamics are reigned in and colors pop. Sometimes the HDR does go too far into flattening highlights out (or washes colors out a bit), but in general — we felt confident with the ROG Phone 7 Ultimate as a daily driver. If there was something worth photographing, we knew we'd be able to snap a picture that's ready for sharing.
Zoom Quality
The Snapdragon 8 Gen 2's new algorithms supposedly help with digital zooming for more high-quality results. With a crop-in of the 50 MP sensor, we get what Asus calls "lossless" 2x zoom. It's OK, though we can see a lot of oversharpening artifacts. Then, the ROG Phone 7 Ultimate taps out at 8x zoom and even then we can sort of see the picture falling apart.
We wouldn't be quick to complain that there is no zoom camera in the device though — the ROG Phone 7 already packs tons of (heavy) hardware, so we understand the lack of a telephoto lens. In fact, we kind of prefer the slim camera module as it is, thank you very much.
Portrait Mode
The Portrait Mode is now enhanced with the 2x zoom option — you can kind of simulate having a telephoto lens for more "natural" portraits. Unfortunately, the background blur isn't… great — sometimes edge detection is off, sometimes the blur itself simply looks bad and unconvincing. But maybe just adding a small amount of it instead of going for super-soft bokeh can be effective.
Ultra-wide Camera
The 13 MP ultra-wide camera is pretty good. It handles dynamics and colors just like the main snapper and it doesn't look overly soft or distorted. In fact, you can take some pretty epic shots with the ultra-wide lens on the ROG Phone 7.
Selfies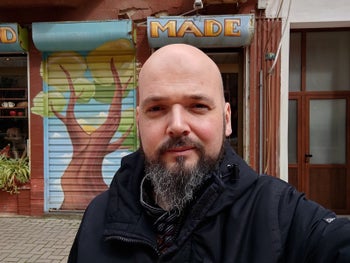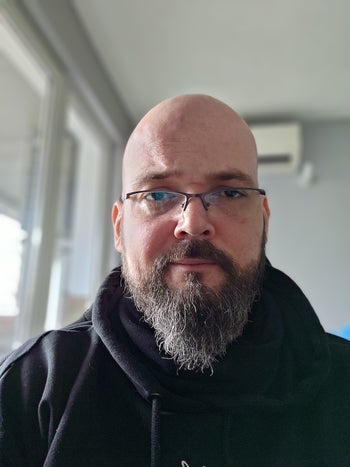 The 32 MP selfie camera seems to be capable of capturing a good amount of detail and very honest colors. It's not amazing with dynamics, but the software HDR helps.
Asus ROG Phone 7 Ultimate Performance & Benchmarks
Powers through stress tests for breakfast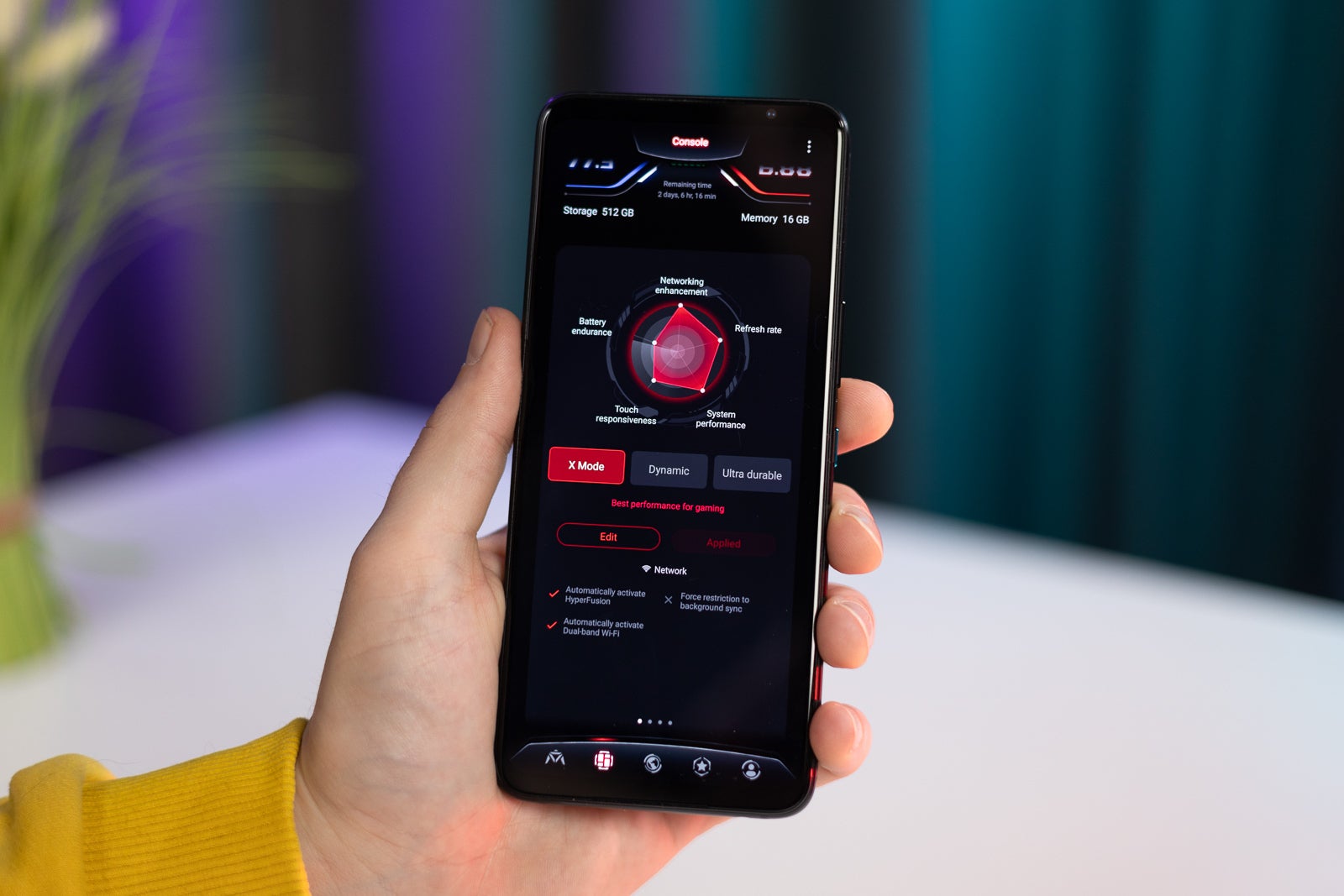 The ROG Phones always come with a few modes of operation — Dynamic, Durable, and X Mode. The first is the default, balanced selection between performance and endurance. The second will throttle performance to give you the best battery life out of that 6,000 mAh capacity. The latter will boost performance to the maximum making full use of the vapor chamber inside and Asus' know-how on keeping things going (though, we do recommend slapping that AeroActive Cooler on it).
With X Mode, on the 3DMark Extreme Stress Test, the ROG Phone 7 Ultimate did not budge. It did get very hot — but it refused to throttle. Obviously, this is a worst case scenario, since the the 3DMark test is specifically made to… stress devices.
Performance Benchmarks:
Naturally, in gaming or running heavy apps, the ROG Phone 7 Ultimate just trounces through everything — Apex Legends on Extreme settings, PUBG on the highest possible, etc. — it's a gamer's dream.
Asus ROG Phone 7 OS / Android version
The ROG Phone 7 comes with Android 13 out of the box with a smidgen of custom elements sprinkled around. Asus calls it ROG UI — it's very close to stock Android, but adds a few toggles and options for your gaming needs. You can choose a complete stock Android look from the settings menu, if the slight gamer aesthetic is not to your taste.
What's more important here is that Asus has finally committed to an update schedule — the ROG Phone 7 will receive 2 years of Android OS updates and 4 years of security updates. It's not… the best out there, but it at least offers some future-proofing and peace of mind. Much appreciated on a smartphone that will cost north of $1k.
Asus ROG Phone 7 Battery
6,000 mAh — that's a powerbank in a phone
The ROG Phone 7 doesn't feature wireless charging — there's hardly room inside for that — but what it does have is a dual battery with two 3,000 mAh cells that make for 6,000 mAh total capacity. These are charged up by a 65 W brick that actually comes in the box.
So, you have plenty of endurance and fast charging to top up between sessions:
PhoneArena Battery Test Results:
Asus ROG Phone 7 Audio Quality and Haptics
After the ROG Phone 6, we didn't really think Asus could do anything to improve the sound in these devices. Well… we were wrong.
Surprisingly, the ROG Phone 7 — somehow — sounds better than the 6. The front-firing stereo speakers blast out a balanced, detailed sound, with wide stereo separation and a satisfactory bottom end. No shrill highs or distorted high-mids. It is great to just set aside and listen to music from!
To top it off, the AeroActive Cooler 7 enhances that musical experience with an integrated subwoofer, which really enhances the bottom end of the sound. It becomes a low-key multimedia package.
As for haptics — Asus have those nailed. In fact, there's a new setting within the Armory Crate where you can have the phone vibrate differently depending on where on the screen you tap. So, if you're playing a game and would like to have some feedback for tapping specific on-screen buttons — you can have the ROG Phone 7 give you that feedback with various levels of vibration.
Asus ROG Phone 7 Models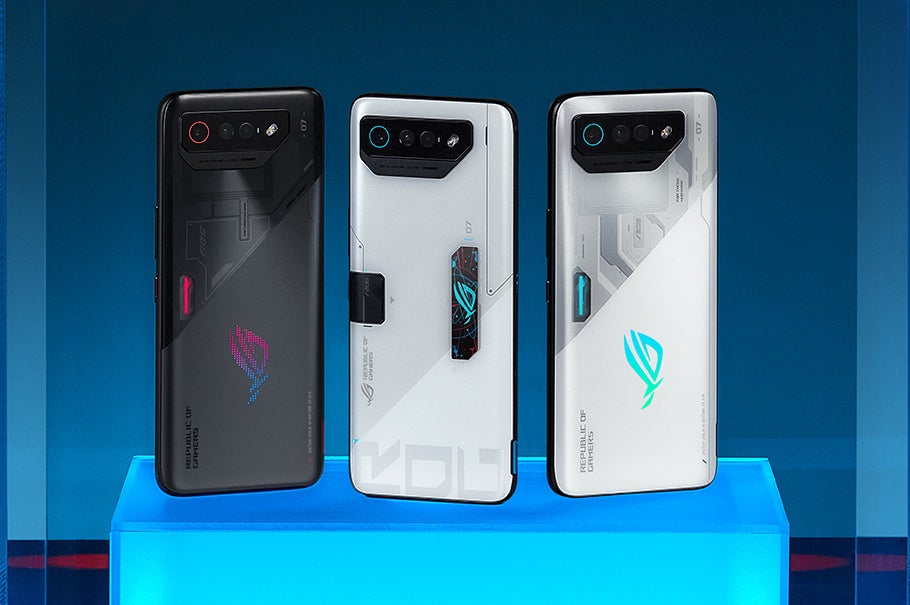 The ROG Phone 7 launches in two flavors:
ROG Phone 7
ROG Phone 7 Ultimate
They are very similar in specs, performance, screens, speakers, cameras. The Ultimate is different because it has an AeroActive Portal on its back — it's an opening, which allows the AeroActive fan accessory to cool the device faster. Also, the Ultimate has a tiny screen on the back to display colorful graphics, whereas the regular model only has an RGB light back there.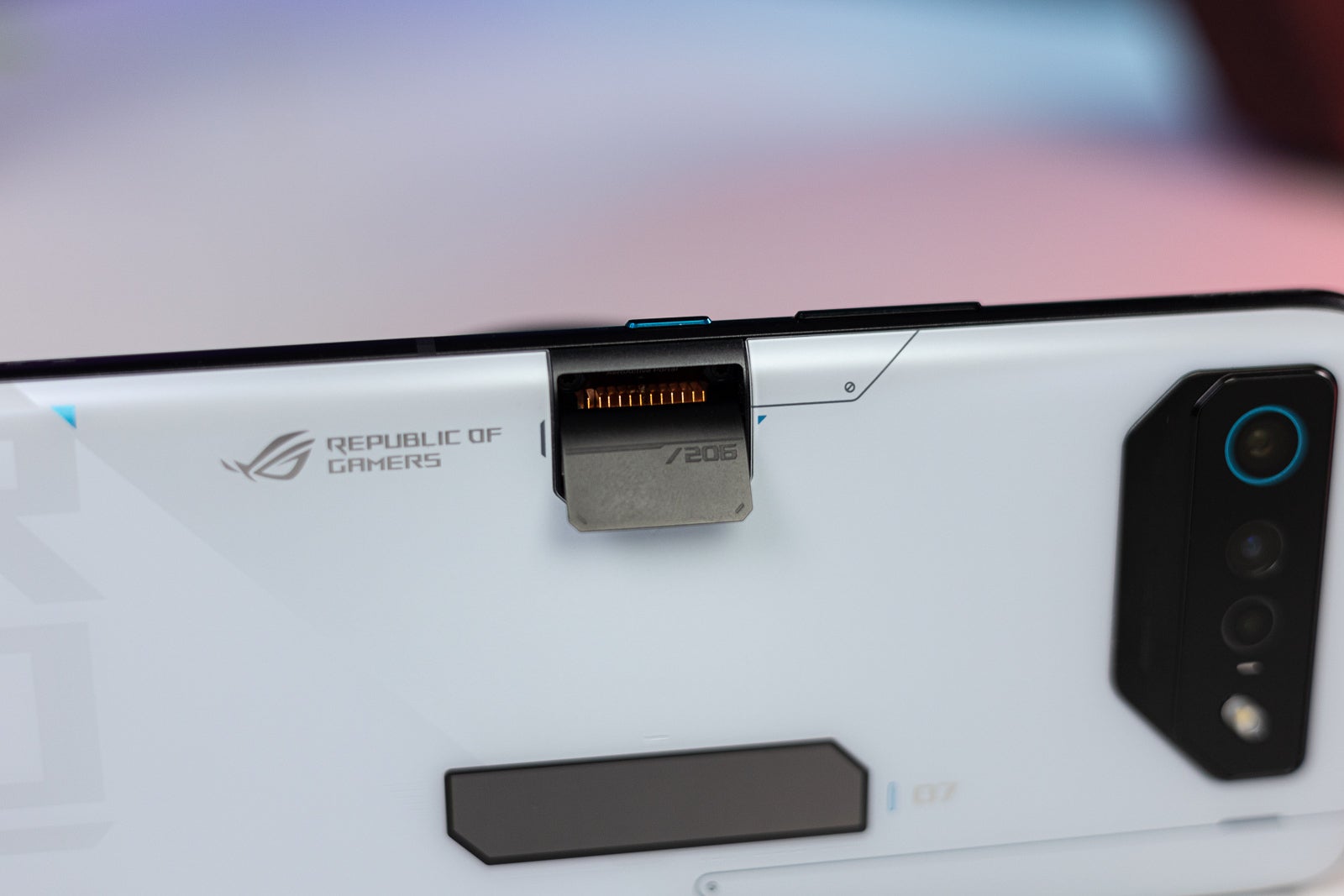 Portal only opens when fan is attached
Also, the ROG 7 Ultimate comes with the Cooler bundled in the box. The regular ROG Phone 7 is still compatible with an AeroActive Cooler 7 or 6, you just need to buy one separately.
Asus ROG Phone 7 Competitors
There isn't much competition for the ROG Phones out there. Yes, there are gaming phones, but nobody goes above and beyond with the fastest hardware and extreme cooling the way that Asus does.
Other brands that make gaming phones with side buttons — Black Shark and Red Magic. Both of these are niche sellers with much more… customized software.
Asus ROG Phone 7 Summary and Final Verdict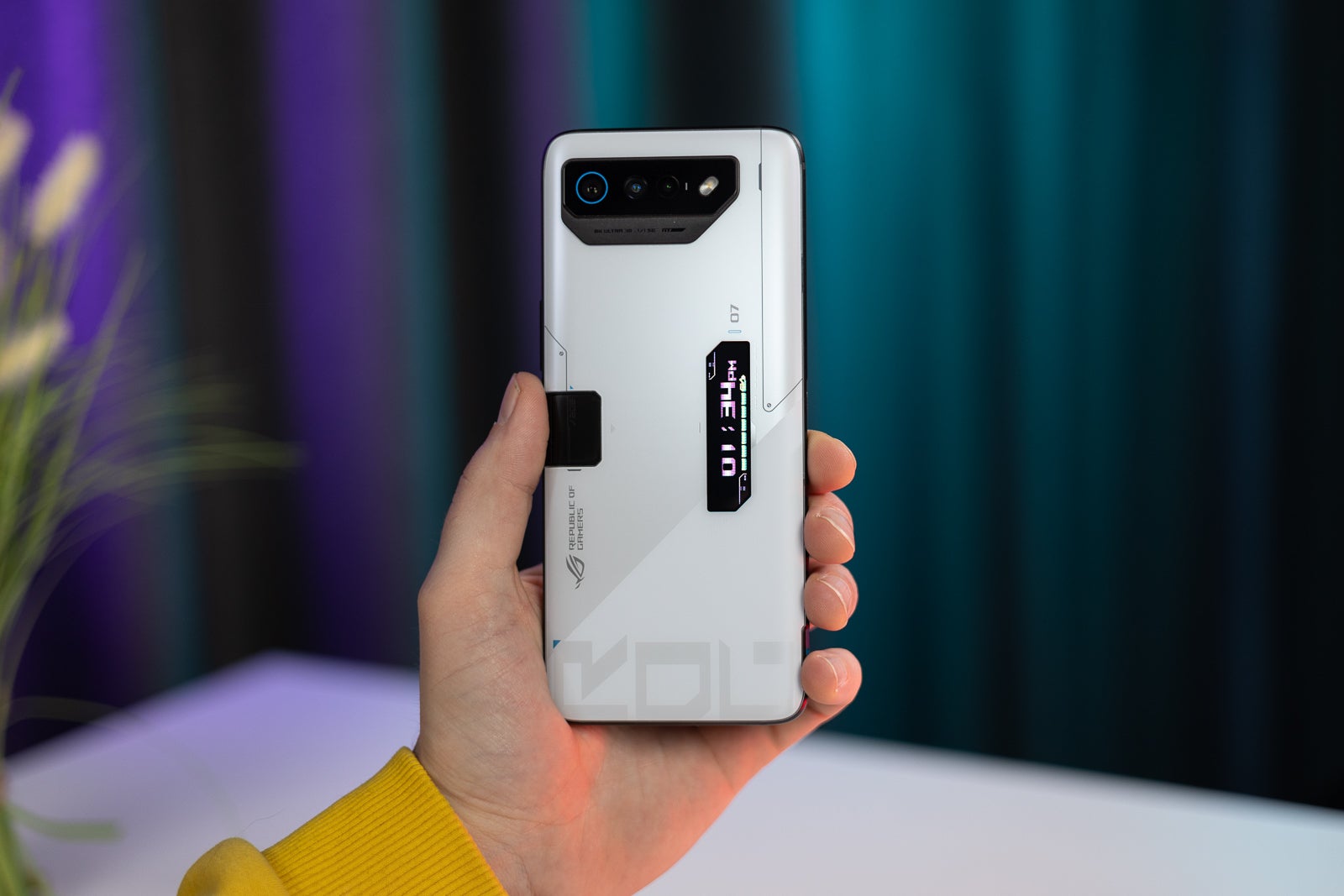 Would we recommend the ROG Phone 7? Yes… for some people. Those being gamers and phone geeks — it's pretty obvious. The phone's design and branding doesn't hide who it's for.
But we also appreciate that improvements in the camera and software updates over the past year have made these phones more suitable for "generic" use. After all, if you are spending good money on a smartphone — it would be kind of nice if it can be mentioned in the same breath as Samsung and Pixel.
Even though we spent our time with the ROG Phone 7 Ultimate, we would say the non-Ultimate is the way to go. The regular version is just as overkill. It has the same specs, cameras, speakers and screen. So, while we enjoyed the Ultimate, we would recommend one buy the regular ROG 7 and pick up the AeroActive Cooler 7 for it separately — it will still end up a cheaper package than the Ultimate.
The ROG Phone 7 is launching in Europe right now, starting from €999 for the regular model and €1399 for the ROG Phone 7 Ultimate (bundled with AeroActive Cooler 7, a €110 value).


منبع: https://www.phonearena.com/reviews/asus-rog-phone-7-ultimate-review_id5770