Asus Zenfone 10 Intro
When Asus decided to go down the compact route with the Zenfone 8, not many people noticed how great that little phone really was. Then the Zenfone 9 came out a year later, and suddenly the Taiwanese company found itself in the spotlight. The little jewel got praised all over the internet, and tech reviewers seemed crazy about it. There was a void to be filled in the compact flagship space, and the Zenfone 9 arrived at the right time.Holding the Zenfone 10 in my hands, I can't help but feel just a tad disappointed. Don't get me wrong, the phone is great and improves on key areas people have nitpicked about with the previous generation. It has the latest chipset, the same compact size, and now comes with wireless charging onboard.
The thing that makes me sad is that Asus has succumbed to the same "don't fix it if it's not broken" formula that Samsung and Apple have used for years, even decades. The Zenfone 10 looks almost identical to its predecessor, probably starting something of a visual identity for the series, which comes with pros and cons. The phone is still great, though. Let's dive in and see exactly how great this little thing is.
What's new about the Zenfone 10
144Hz refresh rate during gaming
Snapdragon 8 Gen 2
LPDDRX5 RAMUFS4.0 memory
15W wireless charging
32MP RGBW selfie camera
Table of contents:
Zenfone 10 Unboxing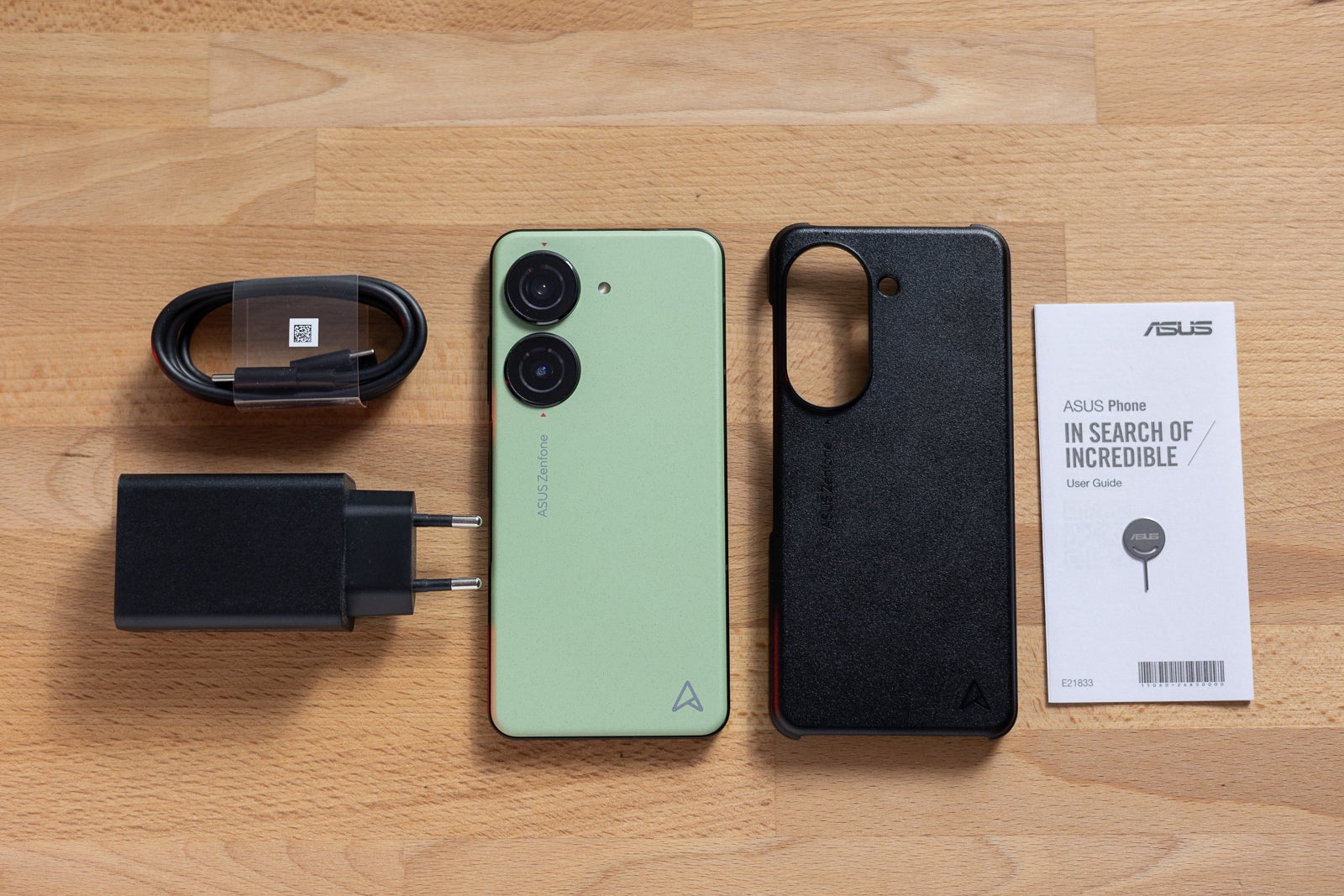 In a smartphone world of scarcity where plastic is the anti-hero, killing all the dolphins, Asus stubbornly continues to include a fast charging brick inside the retail box, a USB-C cable, and a protective bumper case. So you don't have to buy all those things. Because, let's be honest, you will buy them anyway, dolphins or no dolphins.To be absolutely fair to Asus, the company points out that the box of the Zenfone 10 is made from recycled paper with soy ink printing, no adhesives, and is 100% environmentally friendly.
Zenfone 10 Specs
Specs
Asus Zenfone 10
Size and Weight
146.5 x 68.1 x 9.4 mm; 172g
Dsiplay
5.92″ 20.4:9 (2400 x 1080) 144 Hz (only available in games)
1100 nits peak brightness
Processor
Snapdragon 8 Gen 2, Octa-Core, 3.2GHz
RAM, Storage and Price
Up to 16 GB LPDDR5X RAM; Up to 512 GB UFS4.0 ROM
Software
Android 13 with Zen UI
Cameras
50 MP (Main camera Sony IMX766)
13 MP (120° ultrawide-angle lens)
32 MP Front camera
Battery Size
4,300 mAh
Charging Speeds
30W HyperCharge Wired; 15W Qi-certified Wireless charging
Zenfone 10 Design & Colors
The biggest change here is the lack of change. The Zenfone 10 is almost identical to its predecessor, with very minor design changes. One such change is the rings around the two cameras on the back, which are now solid black. In the previous model, there were silver accents on the outside of the rings.
Other than that, it's pretty much the same deal: a compact 5,9 inch screen with a selfie hole-punch in the upper left corner, an aluminum frame with the ZenTouch elongated fingerprint scanner/power button on the right, a 3,5mm jack, a spongy back that's rubbery and slightly raised, and two big circles in the left corner for the main cameras.
There's a new color this year: a cool mint green that Asus calls Aurora Green, joining last year's Midnight Black, Starry Blue, Comet White, and Eclipse Red. It's good to see vibrant and poppy colors, even though the red option looks a little pinkish. The Aurora Green is fresh and perfect for the coming summer.
Zenfone 10
Display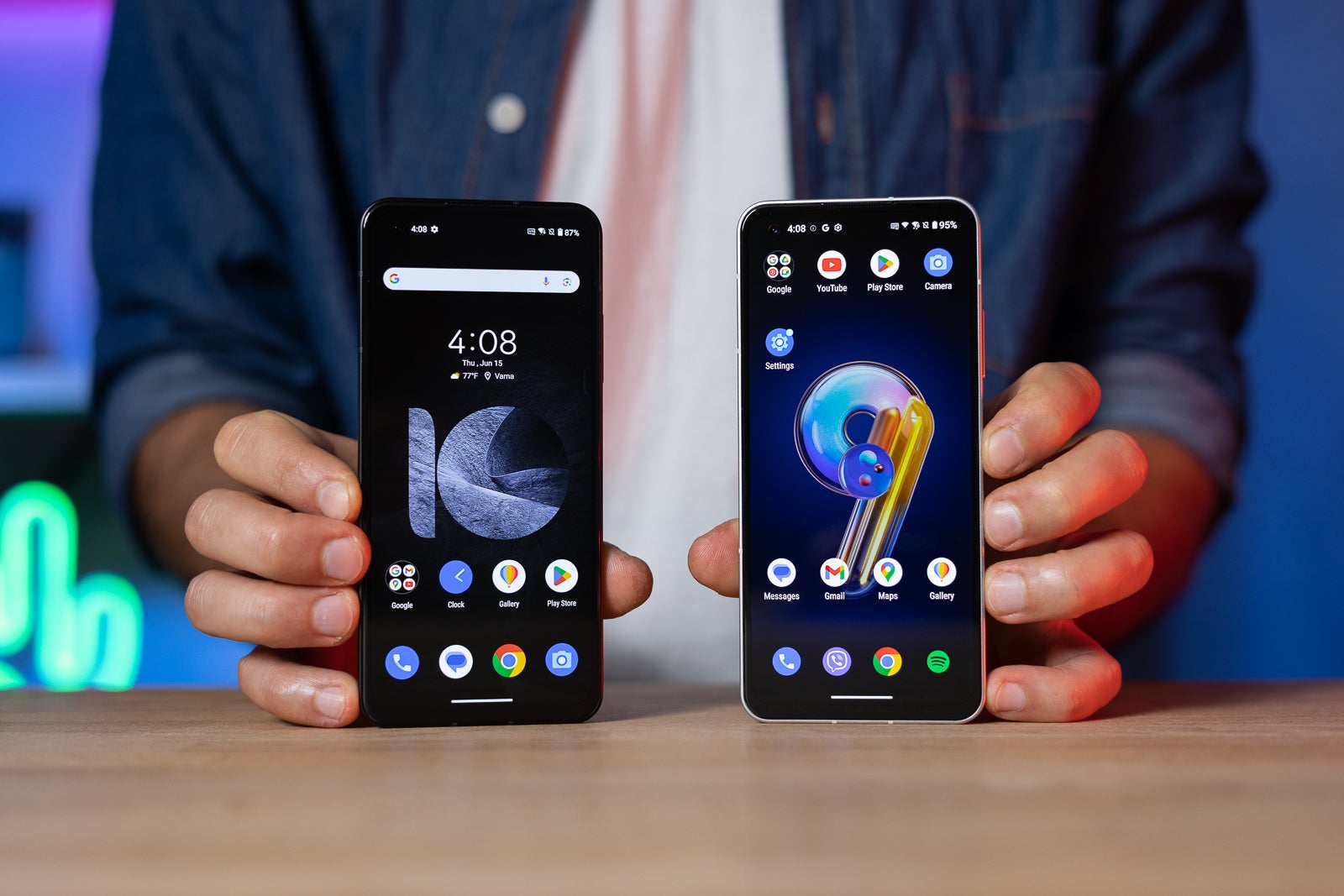 Zenfone 10 next to the Zenfone 9
The Zenfone 9 had a gorgeous display with great specs and performance all around. It's largely the same panel on the Zenfone 10 with just one little upgrade – the refresh rate can now go up to 144Hz during gaming.
If you take a look at the comparison table, you'll see that little has changed in terms of brightness, color accuracy, and temperature from the last generation, which is not a bad thing. The Zenfone 10 display is quite bright (although far from the crazy 1000+ nits numbers we're seeing lately from other flaships), and it's also pretty color accurate with an average deltaE of 1.94.
All the customization from last year is present here as well – we've got an Always-on mode, a smart display (that extends the screen on time when you look at the display), Lift to Check, and five color presets – Optimal, Natural, Cinematic, Standard, and Customized. You can tweak the color temperature if that's your thing, switch manually between 60, 90, and 120 Hz, or leave it on Auto.
One thing's worth mentioning here: the 5,9-inch FHD+ (2400 x 1080) AMOLED panel (made by Samsung and tuned by Pixelworks) is not an LTPO, which means it can't go between the aforementioned refresh rates and down to 1Hz, for example. You can't manually select 144Hz either, this mode is automatically engaged when you launch a game.
Zenfone 10 Camera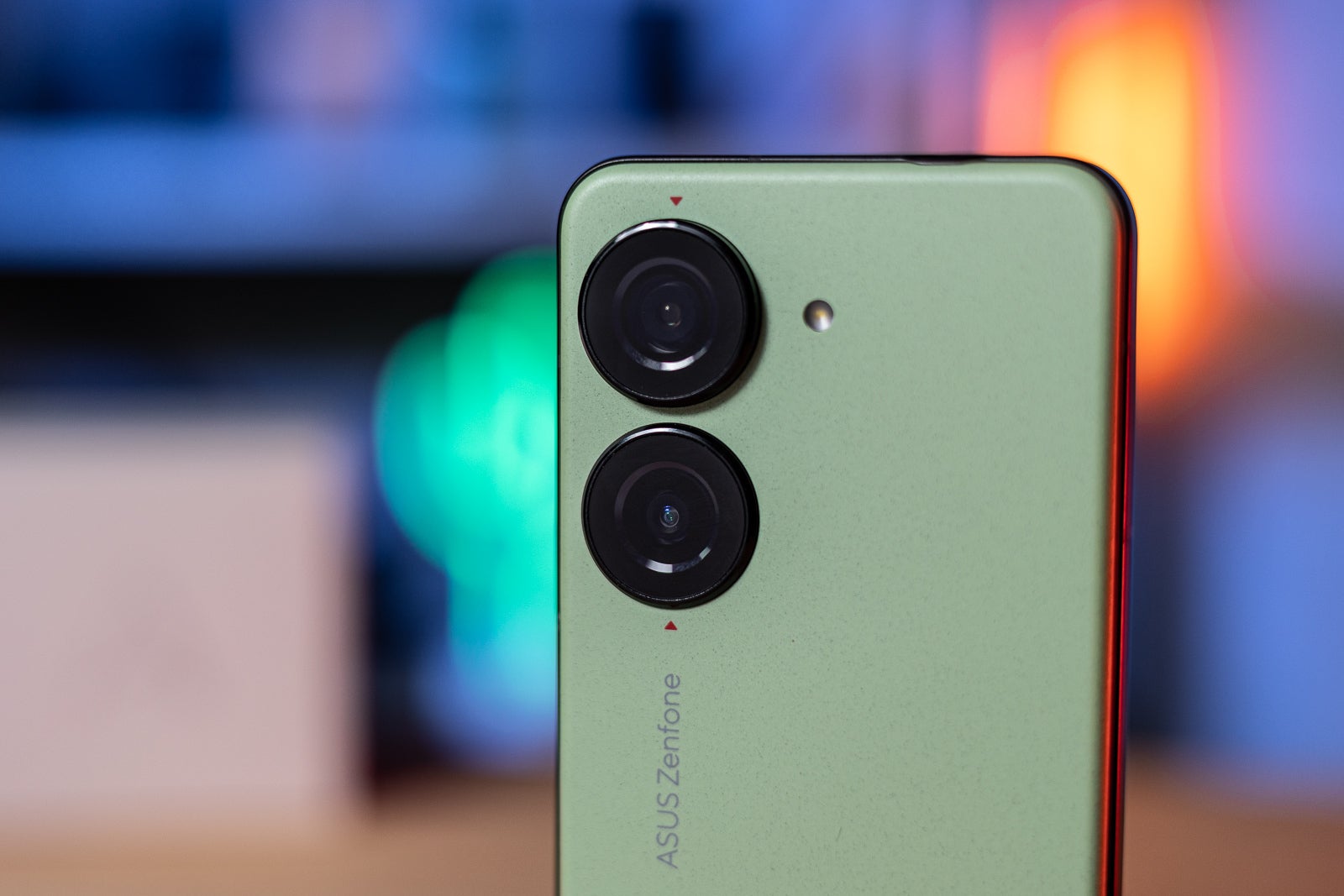 Asus made a very interesting decision regarding the camera system of the Zenfone 10. Nowadays, when smartphones are very similar, the camera is one of the potential areas for upgrade, and manufacturers focus their attention on 1-inch sensors, new types of lenses, variable apertures, and other cool stuff.
Surprisingly, the Zenfone 10 features the exact same hardware for its main camera as the predecessor in the series. The main camera sits on top of a Sony IMX766 sensor with 50MP resolution and an f1.9 aperture. This camera features improved 6-axis gimbal stabilization, and given how impressed we were with the 1.0 version, we expect great results from this little upgrade.
Images turn out decent, even though the Zenfone 10 displays a slight tendency to overexpose shots. The level of detail is pretty good, but in very bright lighting conditions (a summer day at the beach, for example), there are some clipping issues and halo artifacts. Overall, picture quality is good but not exactly flagship-grade, whether it's down to the IMX766 sensor or computational algorithms.
The ultrawide camera has become even more ultra-wide compared to last year. The Zenfone 10 can now shoot 120-degree FOV images (last gen was capable of 113 degrees). The dynamic range is generally good, and the tonality is similar to the main camera. There's a loss of detail in the corners of the image, probably due to focusing issues with the extended field of view, but the end results are consistent with the photos taken with the main 50MP camera.
There's no dedicated telephoto camera on the Zenfone 10, and that's one of the main sacrifices Asus had to make to keep the phone compact. Unsurprisingly, the zoom images are not spectacular, to say the least, there's no way around the missing optics here. Photos at 2X digital are okay, but 8X is almost unusable.
Portrait mode is quite good, with a decent level of detail and natural colors. There are exposure issues from time to time (sometimes images turn out underexposed), but overall, you can get some nice bokeh shots in this mode.
The selfie situation is vastly improved compared to last year, which shouldn't come as a huge surprise. The selfie camera is the sole big hardware upgrade Asus decided to make this year, moving to a 32MP camera with innovative white pixel technology. The upgrade yields some pretty nice results, with detailed and color-accurate selfie shots.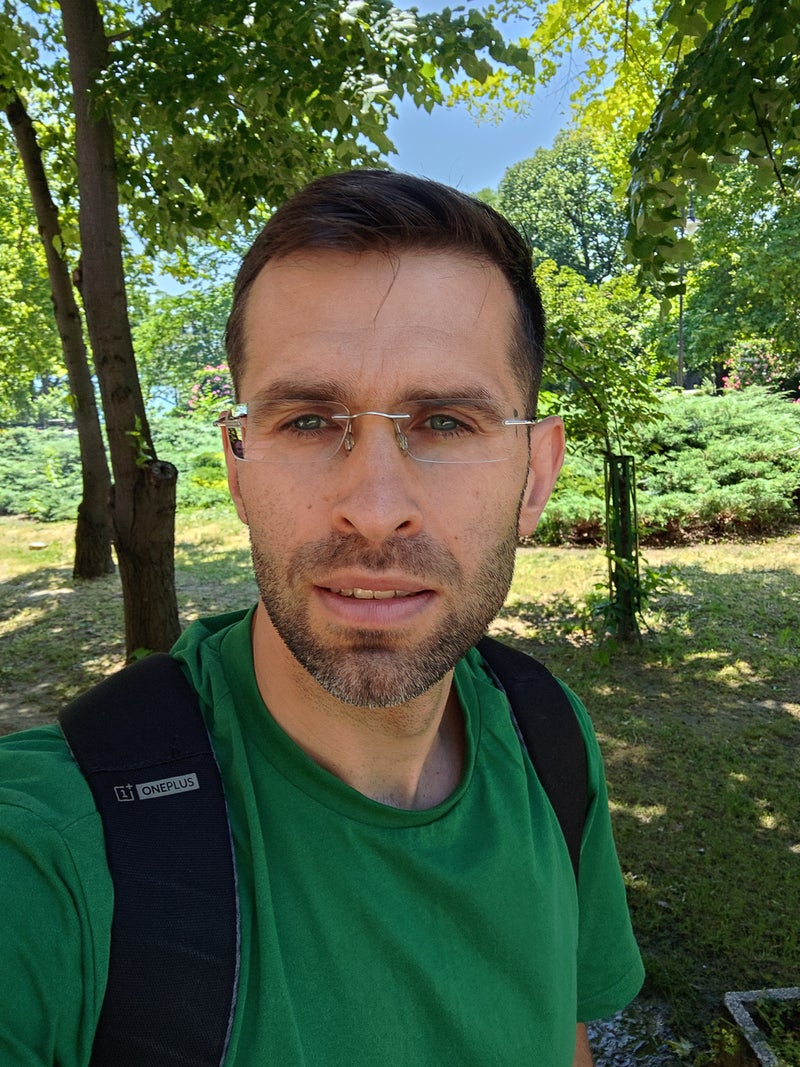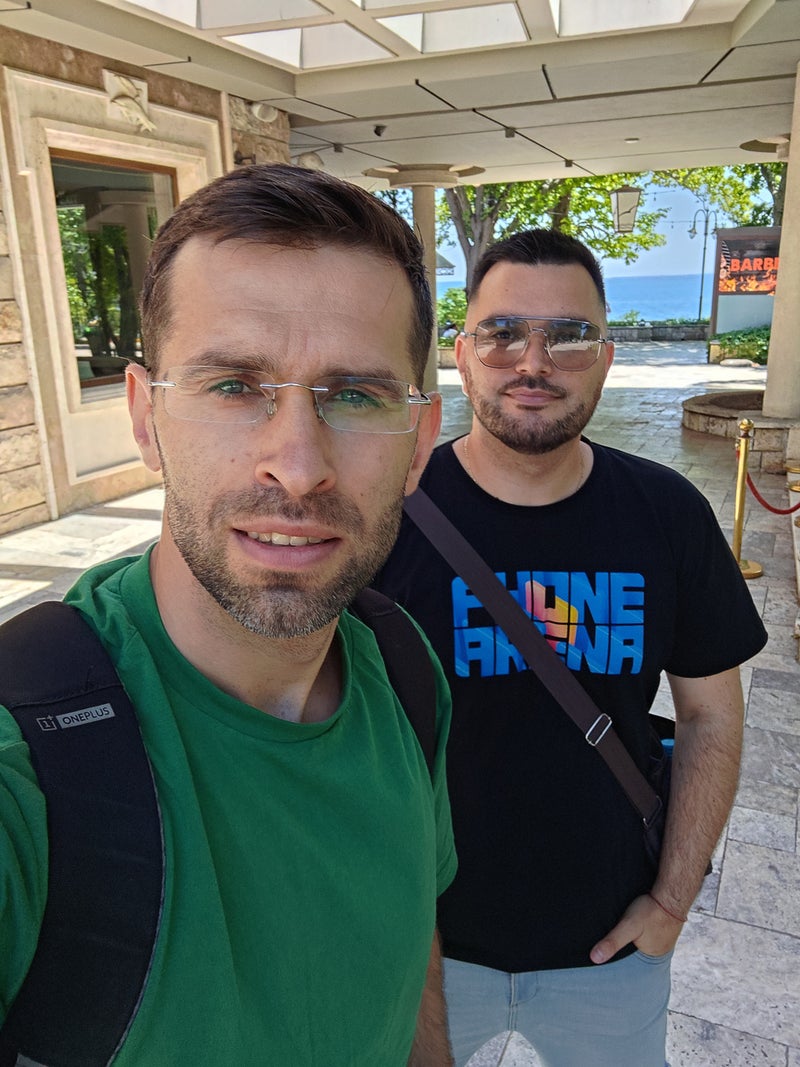 Night shots are a mixed bag, on the one hand, the algorithms seem improved compared to last year. The images are quite bright and detailed. On the other hand, colors are a bit weird, with a green-yellowish tint.
When the Zenfone 9 came out a year ago, many people were impressed (and rightfully so) with the so-called gimbal stabilization on the main camera. The 6-axis system worked great on the Zenfone 9 and now works even better on this model. Asus upgraded this strong feature and brought it to 2.0 on this model.
In practice, this means that there's a dynamic image stabilization mode (Asus calls it Adaptive EIS) that automatically adjusts the crop based on how shaky your video is. You can set-and-forget it or use HyperSteady (a combination of the optical 6-axis stabilization and the electronic crop) for the most stable results.
As far as video quality goes, we recommend the 1080p at 60 fps mode; it's very smooth and has a good level of detail, plus you can use the full potential of the Adaptive EIS system in this mode. 4K videos are also great, though some transitions between dark and light scenes are not perfectly smooth
Zenfone 10 Performance & Benchmarks
Another thing hasn't changed, but this time it's for the better. The Zenfone 10 comes equipped with the latest and fastest Qualcomm chipset, the Snapdragon 8 Gen 2. It's great that Asus keeps on slapping top-grade silicon on its compact phones, not sacrificing raw power by making excuses with the size, battery, or whatever.The phone is up there with the other Snapdragon 8 Gen 2 flagships, even toppling them in some of the synthetic benchmarks. The good news is that the 8 Gen 2 is better at energy and thermal management, and the phone doesn't get as hot as its predecessor. The performance in real life scenarios is great, the phone feels super fast and snappy (you can tweak the UI animation speed to make it even snappier).
The Zenfone 10 features upgraded LPDDR5X RAM, and you can get up to 16GB, while the storage options go up to 512GB with UFS 4.0 SSD storage. There's no microSD card slot.
Zenfone 10 Android version
Android 13 takes care of managing all that hardware power, but the sad thing is you're getting only two years of major software updates (and four years of security updates). There's the usual ZenUI treatment, with helpful bits and pieces here and there.
The ZenTouch interface has been upgraded, you can now use the long power button to swipe and scroll web sites, along with the option to bring down the notification shade. You can long-press it or double-press it to invoke different actions or launch an app, and there are more customization options available.
There's a new Edge tool, which is similar to what Xperia is doing with its Side Sense feature. A little strip near the edge of the screen holds some shortcuts and settings you can easily access. In theory, it's a nice addition, but in practice, when the phone is already so compact, there's no need for such "enhancement," and just like Side Sense, you won't be able to bring it out consistently enough to be of any real use, and you'll probably disable it after a couple of fails.
Zenfone 10 Battery
Even though the dimensions of the Zenfone 10 haven't changed from last year, Asus somehow managed to put a wireless charging coil and the same 4,300 mAh battery inside the chassis. Paired with the very efficient Snapdragon 8 Gen 2, this battery will last you days.
Battery test results
The Zenfone 10 was very close to leading our browsing test scores with an amazing result of 27 hours and 27 minutes of continuous browsing. The Xperia 10 V is the only device that can match this result, but the Sony has a much inferior chipset.
The YouTube test also returned a pretty solid result of 15 hours of non-stop video consumption (at max volume!), so you can go on and watch tiny videos on that tiny display all day.
The gaming situation is very different, mainly because, unlike browsing (which uses a dynamic refresh rate) and YouTube (which defaults at 60Hz), during gaming the Zenfone 10 overdrives the display to 144 Hz. And this drains the battery pretty quickly. You can get up to 6 hours in this mode, which is not that bad but nothing to write home about.
Charging speeds
The Zenfone 10 comes with a 30W Hypercharge brick inside the retail box, and even though it's very far from the crazy 100-200W chargers that are currently coming from the Far East, it does the job well enough. Half an hour will charge the battery to 50%, and a full charge takes 84 minutes.There's now wireless charging onboard, and it supports Qi chargers with up to 15W of power. It takes more than 3 hours to fully charge the battery this way, but it's a great option to just throw the Zenfone 10 on a charging mat when you go to sleep.
Audio

Quality and Haptics

The Zenfone 9 set pretty high standards for audio quality in sub-6 inch phones, with a stereo speaker setup, some cool bass enhancement magic, Duriac tuning, custom EQs, and more. The good news is that all this audio goodness is still present on the Zenfone 10.

The stereo speakers are loud and clear, with little to no distortion at max volume. The Bass enhancement tech works wonders, and the added frequencies make your Zenfone 10 sound much bigger than it really is. You can use the AudioWizard to fine-tune your sound, and it includes a 10-band EQ for even more customization.

Everything audio was designed and tuned with the help of Dirac (the French audio experts), and there's a new feature that works both with wired and TWS headphones, called Dirac Virtuo, basically offering spatial audio on any headphones you plug in or pair with your Zenfone.

Nothing to complain about here, I tested the options with my trusty Audio Technika ATH-50 (thanks, 3.5mm jack), and the results were very, very pleasing. Haptics are short and snappy—not the strongest out there, but given the size of the phone, very impressive nonetheless.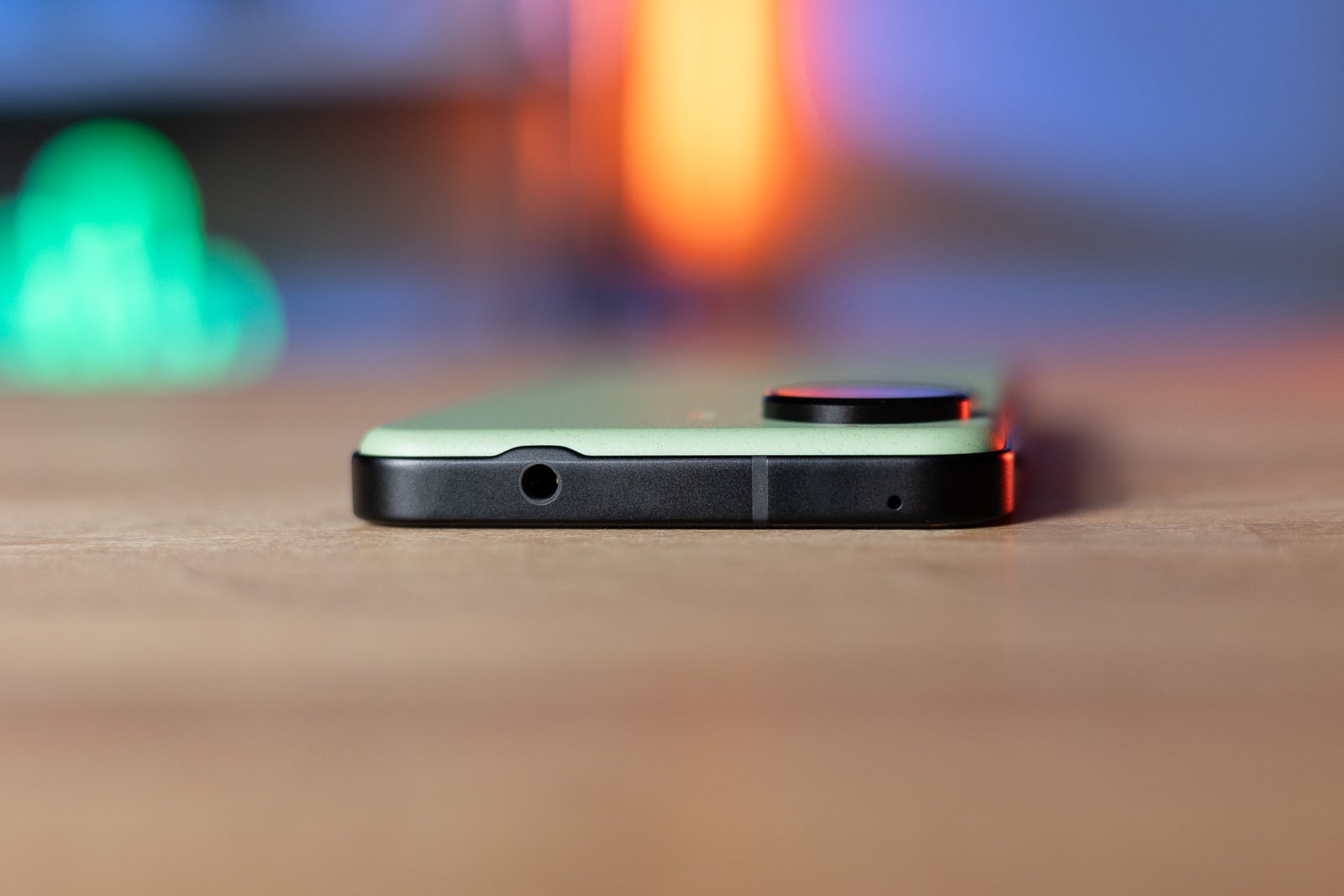 Zenfone 10 Competitors
There aren't many phones on the market with screens smaller than 6 inches nowadays. As a matter of fact, the Zenfone 10 is currently the only phone sporting a Snapdragon 8 Gen 2 processor with such a small footprint. This is both a strength and a weakness. It's a strength because if you want a compact flagship, there's nothing out there to challenge the Zenfone 9 and 10.Vanilla iPhones and Galaxies start at 6.1 inches; the Xperia 5 series sports a different aspect ratio, and the iPhone mini lineup is now getting quite old (and it's also discontinued). So, the real competition here is in-house. Zenfone 10 vs Zenfone 9.
You can check out our detailed comparison, but long story short, if you already own the Zenfone 9, there's little to no reason to upgrade. And if you don't, get the Zenfone 10, it's the same price but marginally better in several areas.
Zenfone 10 Summary and Final Verdict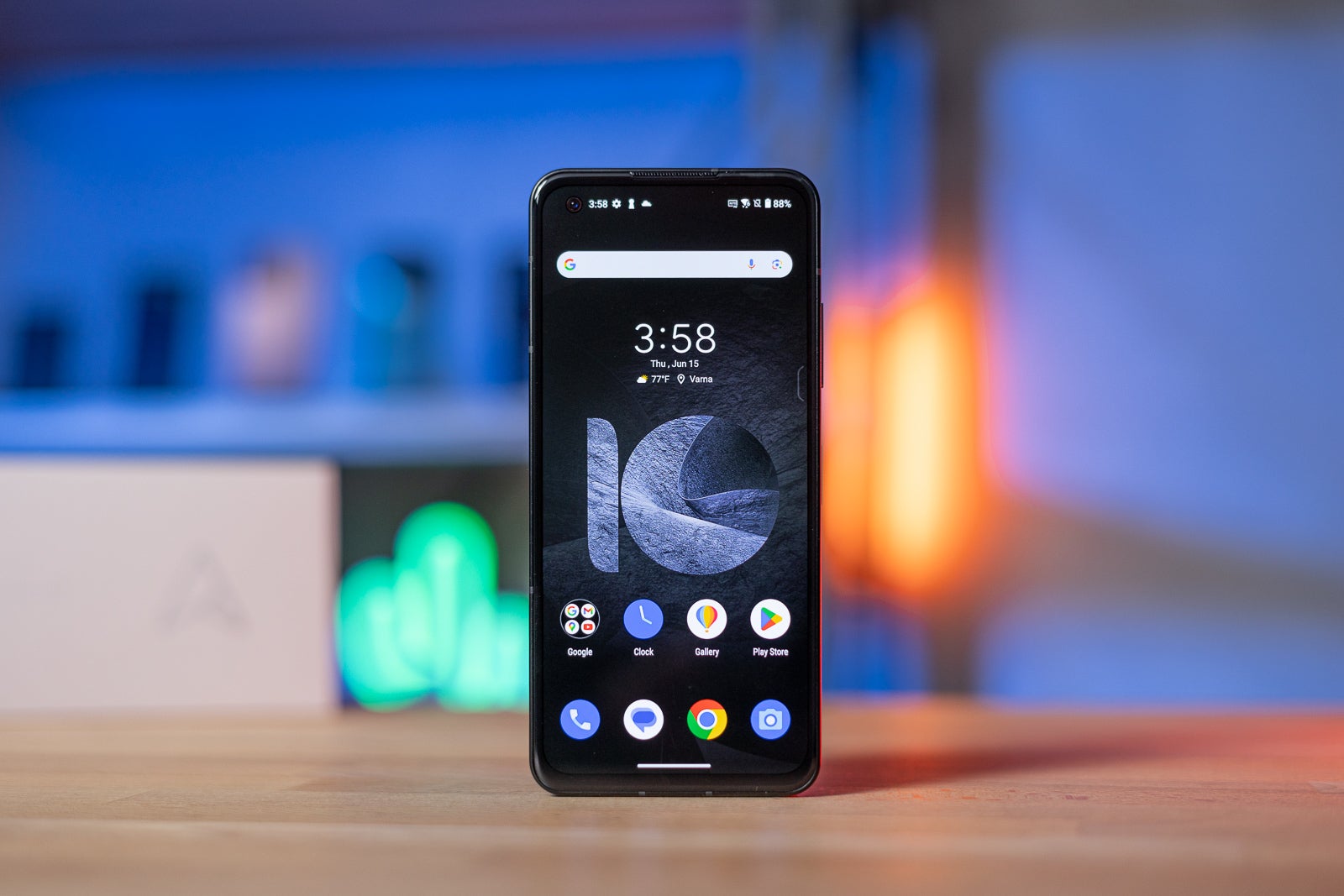 We're very pleased that, despite all the rumors, Asus decided to stick with the compact idea for the Zenfone 10. Some leaks suggested that the company was going to scrap the "small flagship" philosophy and go bigger. Fortunately, we have our next compact flagship, and even though some people might call it the Zenfone 9S or 9.5, it's still one of the best compact Android phones on the market.
The camera situation is probably the most disappointing one, robbing the Zenfone 10 of a perfect score. Sticking with more or less the same hardware weighs the Zenfone 10 down when other manufacturers move rapidly forward in this department. That being said, the gimbal stabilization onboard is still one of the best on the market, and adding Adaptive mode allows people to produce amazing videos in almost every possible scenario.
Overall, the Zenfone 10 is a great little phone: powerful, cute, easy to use, with a long-lasting battery, and with a distinct design. It's more than capable of competing with the Galaxies and iPhones of today, and if Asus manages to amp up its retail game a notch, the Zenfone could become a real threat.


منبع: https://www.phonearena.com/reviews/asus-zenfone-10-review_id5866